Maturity stage – this is how I would name the current e-mail in Lithuania and around the world. trade ecosystem. Key Ways to Promote Email store sales these days are: search engine (Google founded in 1998) and social networking (Facebook founded in 2004).
Thus, in a practical twenty-year perspective, evaluating e- in-store advertising channels, it can be seen that the fundamental players helping to sell have not changed. However, one of the advantages of the current mature ecosystem is that it has clear rules on how to operate these channels to sell more.
Global context: performance marketing, virality, content.
Let's take a look at global email. players trading strategies. How many of them, what are they like and how does this help big e-commerce businesses grow? I would single out three main strategies:
1. Performance marketing (Facebook Ads, Google Ads ). This is an advertising method that is perfect when a customer is looking for information but naturally emails. the store does not come.
2. Virality (Word Of Mouth, Referral, Invites). This strategy is fantastic, but it requires an extremely good product or service. It's so good that people talk about it and recommend it to each other without anyone encouraging it.
3. Content (SEO). Extremely effective when e. the store has many items, categories, and information that people are looking for naturally.
In each category of goods or services, we can find players with different practices and tactics. Let's look at the travel and accommodation sector. We can single out the three biggest players: Booking.com, AirBnb, Expedia. Although all three provide the same service – there are intermediary platforms that offer accommodation – their advertising channel strategies differed significantly at the beginning of their business development.
Booking.com has focused on a performance marketing strategy, while AirBnb's marketing has been based on virality . Another well-known player, Expedia, sought to attract its customers by implementing an SEO strategy.
Similar trends can be seen in the discount shopping product category. The well-known Wish brand started with a performance marketing strategy. Pinduoduo used virality tactics. And Wayfair relied on SEO marketing. However, the above examples should not be absolute. After a while, all of these emails marketing businesses have added additional advertising channels that they have successfully exploited, and some have even replaced the main advertising channel.
However, these examples illustrate how these brands operated in the past in large markets, but what is the situation in today's Lithuania?
Big Lithuanian players – SEO is one of the key advertising channels
Using Similar Web tools, I analyzed the largest e-commerce businesses in our country, operating in different categories of goods and services. As I went deeper, I noticed that most of the email. stores use SEO to attract online users.
Food category brands (such as Rimi, Barbora, Assorti) pay a lot of attention to SEO optimization and it is the main advertising channel for these businesses, directly attracting consumers to buy.
Meanwhile, the clothing and travel businesses (Zalando, About You, Beta, Gera dovana) maneuver between Performance marketing and SEO.
I often remember 2012. to my former colleague: 'I would like to spend more time on SEO analysis'.
I hope she would say the following today: "Without in-depth analysis, technical SEO, architecture, external optimization, internal optimization, fast email. stores, convenient UX is no longer possible… "
So if you find that an SEO advertising channel is key to your business, invest 110% in it and work only with the very best professionals. There are a lot of specific details in the whole SEO process that require expertise, experience, continuous improvement and updating of knowledge.
And now for some real examples. One customer contacted us with a problem: there was no email. store organic flow. After a thorough analysis of the site, we noticed significant technical errors (incorrect use of canonical tags), and we started other optimization work. Having done all this and working consistently, we've seen rising keyword positions and the growth in organic traffic shown in the graph below.
I wonder what the technical SEO situation is for your email. in the store? Write to me at simas@sarmavicius.lt .
SEO + Performance marketing
As far as advertising channels are concerned, we would like to emphasize that this 'game' has no end. Due to the increasing e-mail. number of stores and declining payback, e. trading businesses must find new micro-innovations to help drive sales.
An excellent example is the Lithuanian e-mail. trading giant Pigu.lt. By combining a performance marketing strategy with content, they get a remarkable result. When a user enters the keyword 'how to choose a washing machine' in the Google search box, they see a paid ad in the results window that leads to an article with useful information and suggestions. All you have to do is click "Add to cart" and buy. In this way, it drives cheap traffic that has every opportunity to convert into sales.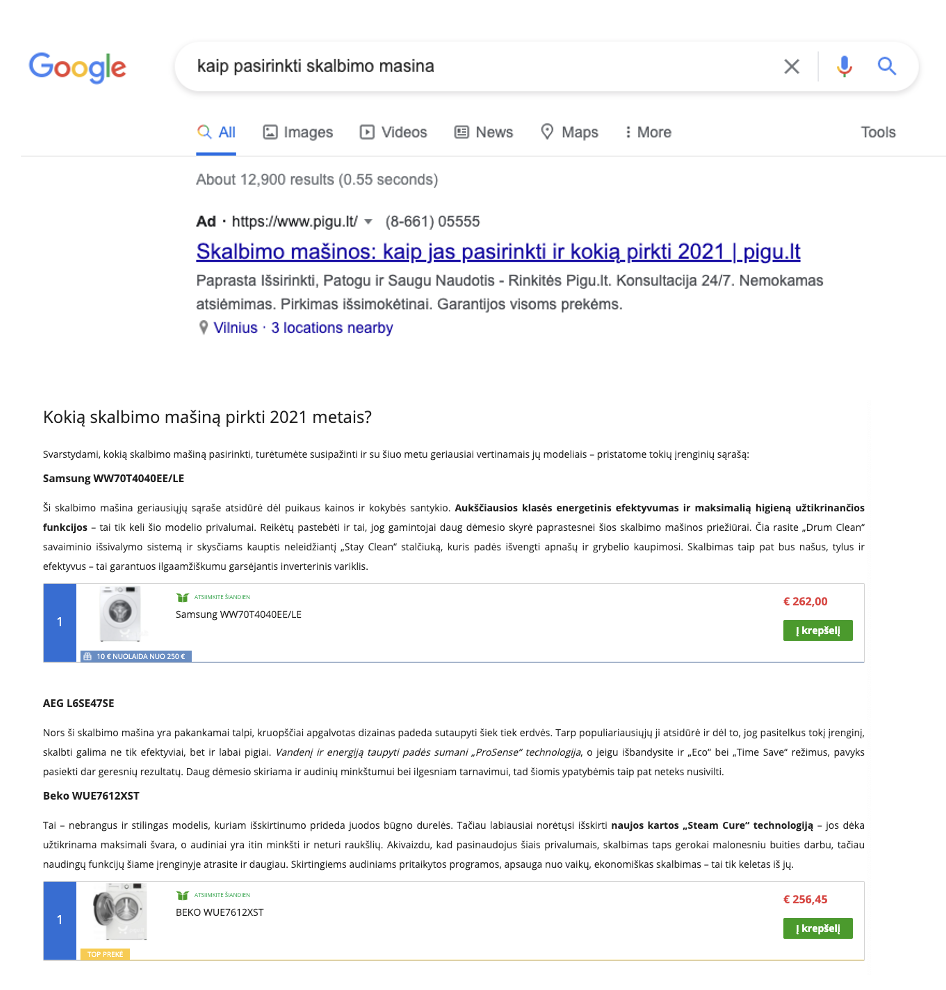 So, first of all, analyze the global players, but implement their tactics in the Lithuanian market carefully. Second, take an interest in micro-innovation in the big markets, evaluate what works best for you, and don't be afraid to experiment all the time. And third, seeing that an SEO advertising channel can potentially be the main focus of your email. to attract store traffic, spare no effort and effort in developing it.