In this article, I share a 5-step SEO model tailored to email. stores. I believe that the mentioned points will at least partially make it easier to understand the SEO optimization process and possibly implement it yourself.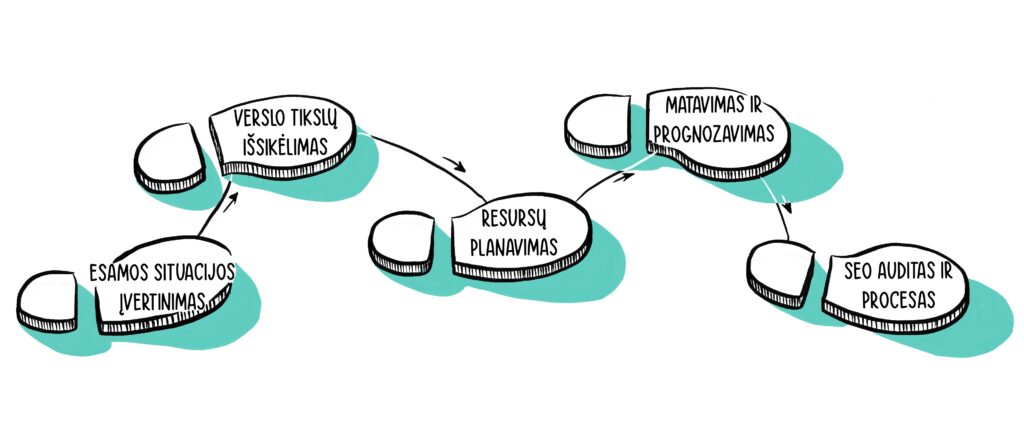 The first step is to assess the current situation
There are certainly not one or even two factors that help to self-assess the current situation. In this section, I have selected three exemplary aspects that are relevant to the analysis el. store seo optimization.
The technical platform used by e-mail. shop
The truth is that everyone dreams of flexible email. a store platform that can be technically customized to suit any of your needs. However, few know that the cost of all this is a growing number of potential SEO problems.
For example, in the global market, the highly successful platform Shopify, which has provided the tools to give birth to as many as a million emails. stores around the world, everyone is tempted by their simplicity and the reassurance that there will be little technical problems in the future (I'm not talking about Shopify Plus here, where greater customization can sometimes cause problems).
And with the PrestaShop platform, it's already more complicated. Because this platform provides more customization options for the page, Google's robots may face more diverse and common issues with incorrect technical solutions.
Well, those who have raised the need for flexibility as a top priority and created their own custom email. store must constantly devote resources to auditing and resolving technical issues. The level of SEO know-how available here must be the highest.
2. El. store business type (aggregator vs integrator)
All email stores can be divided into two types – aggregator and integrator (see figure below).
To make it easier for you to understand what I'm talking about, here are examples of two specific companies: Pigu.lt (aggregator) and Audimas (integrator).
The former operates on a relatively large scale: it has many consumers and many sellers.
The focus of Pigu.lt is a wide range of products, so it has a network effect (the more suppliers sell their products through Pigu.lt, the more customers visit this website and vice versa). For these reasons, Pigu.lt and we can assign the term aggregator.
Weaving works by having differentiated products, selling them at maximum margins and being an expert in their category. It is a company whose emphasis is on product quality and expertise, which is why we call it an integrator.
If the size of the product range of the integrator is limited and the products do not meet customer expectations, such e-mail. It can be difficult for a store to rank high in Google Organic Search.
So, it is very important to understand: your email. the store is an aggregator or integrator and then perform an SEO market analysis. If you're an integrator, not identifying it, not analyzing the market, and starting SEO can be frustrating when you don't get to the top 10 of Google's organic search for some keywords.
3. Category of goods sold
The truth is that Google does not treat all e-commerce categories equally. For example, there is the YMYL (Your Money or Your Life) product segment, which includes health, financial, legal services, and more. categories that Google's search algorithms treat much more strictly than, say, emails. shops selling clothing. For such e-commerce businesses, the SEO optimization cartel is much higher.
So e. Stores that provide services or sell products that directly impact buyers 'finances or the" joy "of living should be aware of several unique aspects of SEO optimization:
– Their results are more difficult to predict;
– It may take more time to achieve good results;
– For larger emails. it is easier for stores to dominate.
The second step is to set business goals
Without knowing exactly what the potential potential of the SEO market is, it's hard to predict the results, so I would first recommend estimating your "total addressable market," which is the size of your market in terms of Google's keyword searches.
Use special tools (eg Ahrefs, Semrush) to aggregate all available keywords, segment them and compare them with competitors. After doing this, you will find out if it is worth investing in SEO optimization.
Then move on to the next question: how long will it take to get high positions in Google search? After all, this is greatly influenced by external links: the more of them, the more likely you are to be above your competitors.
If your competitors 'external links are 160 and you only have 40 in your link cart, it will take as long as you need to catch up with your competitors' available domains.
Finally, I advise you to analyze how important SEO is to you: is it a strategic / primary, or maybe just an auxiliary advertising channel? What importance does it play in the buyer's journey? Depending on this answer, the resources invested, the time, and sometimes even the position of the person in charge of SEO within the company vary. For example, the key way to reach your Pigu.lt audience is with an organic Google search. Let's turn off this advertising channel and this business will run into difficulties.
The third step is to assess the resources required
Estimate the amount of resources required based on the 10 SEO factors validated by Google itself (yes, all of these factors have been identified by responsible Google specialists as important for SEO optimization in one source or another).
So, pay attention to the following aspects:
Content – it is important that the content is relevant to the request, complete and deep enough to answer all questions;
Internal and external links – pay attention to the correct architecture of internal links (desktop and mobile) and the strategy of external links (e.g. on which pages and how much better to place links to your e-shop);
The purpose of the user is to analyze your email. store pages according to the purpose of the user's trip. The consumer can go online to buy (for example, to buy a BMW car) or simply search for information (for example, to search to read about the technical aspects of a particular BMW car).
CTR (Click-through rate) – Make sure your page's results are as high as possible in Google search.
User experience in-store – have a neat email that meets the needs of the customer user experience the store where he would like to browse for as long as possible and end up buying it;
Title Tag – Strategically format the page titles that Google displays in search results.
Page Speed – Invest in making your email the store would be fast, especially on mobile devices;
Content Update – Keep your content up to date. While Google prioritizes the relevance of the content to the query, the top priority is the novelty of the content. The newer the article, the text on your page, the more likely it is to be at the top of Google search results;
SSL encryption – use an SSL certificate that encrypts all information entered by the visitor to the site;
EAT (Expertise, Authority, Trustworthiness) – well, and finally do your best to keep your email. the store would be expert, authoritative and trustworthy.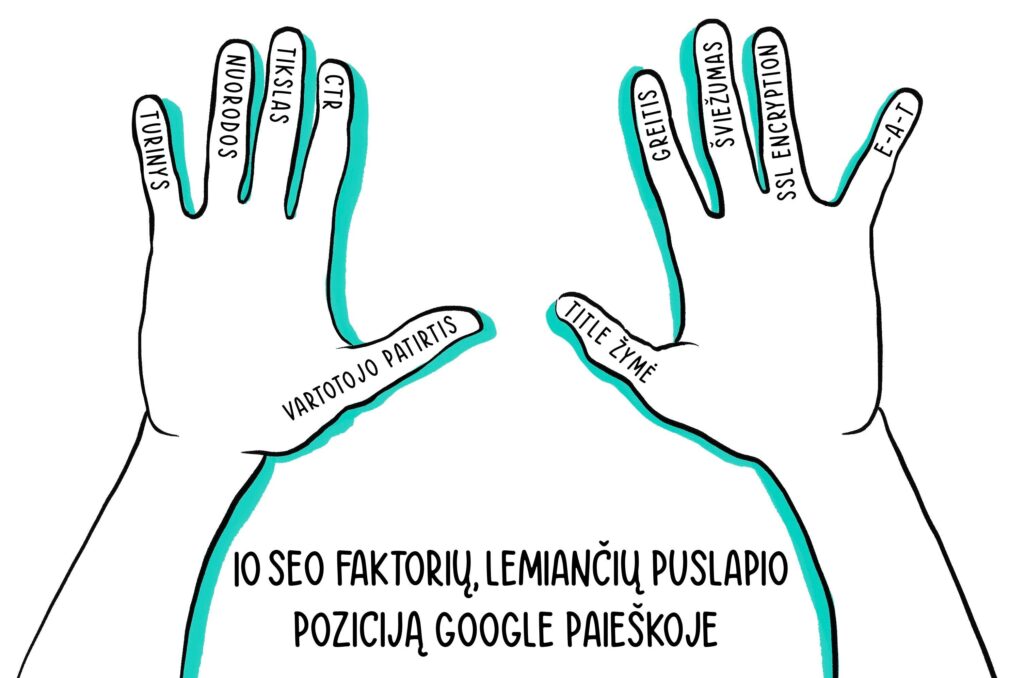 Considering these points, which are important for Google search results (here are only those that Google has confirmed themselves, but I have encountered a larger number of them myself), we see that we need the following resources: IT specialist, PR representative, writer, UX (user experience) specialist and possibly others (e.g. data analyst). So those resources are not so small.
The fourth step is to measure the results and predict
What cannot be measured cannot be controlled. Different metrics may be relevant to the marketing manager and other departments involved in the SEO optimization process. Here are the most common: (Table).
However, this is not all, in order to truly understand the success of SEO optimization, it is necessary to further analyze the results from different cross-sections. For example, segment keywords. Here are the most common segments that may help you: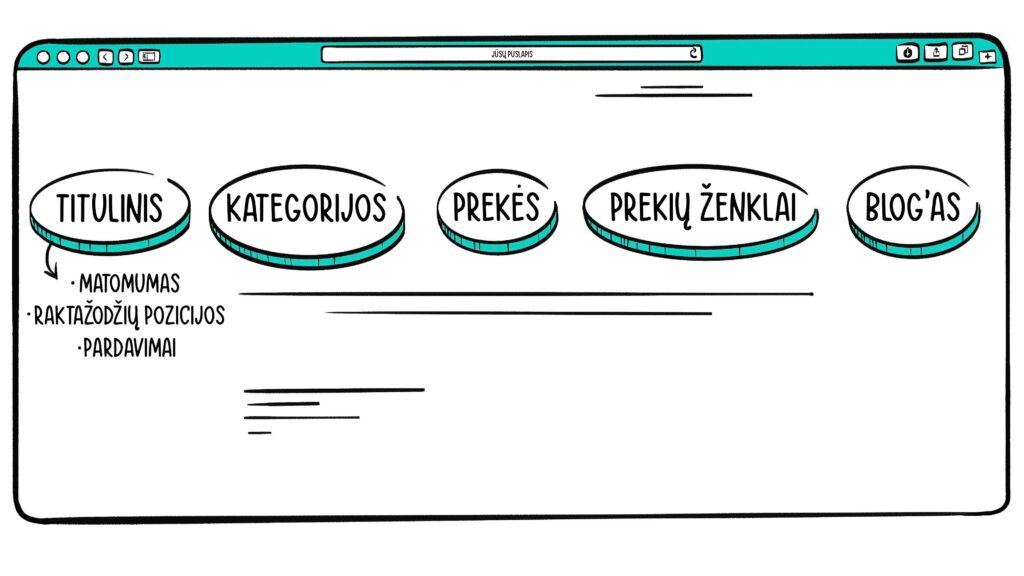 When it comes to forecasting, that's another dimension. I myself have tried many different ways and methods of predicting SEO results, experimenting with all the information I have found online. Unfortunately, none of the methods have worked so far (although they have eaten for very many hours) and I will probably never find one that will live up to expectations.
But to predict, at least minimally, is needed. Therefore, based on past data, planned actions, I predict the future of SEO results. Still, I look at it realistically: such data may have inaccuracies.
But I'm not the only one like this, I'll share investor Warren Buffett's phrase about forecasts:
"Forecasts usually tell us more about the forecaster than the forecast" (Forecasts usually tell us more about the forecaster than about the forecast).
The last, fifth step is to audit and execute the SEO process
Audits are needed to provide an in-depth analysis of certain larger emails. parts of stores that are important to Google's robots and SEO optimization. Those parts would be: technical, internal and external.
I usually use at least several paid tools at once (Screaming Frog, Sitebulb, Ahrefs, Deepcrawl) that scan emails. store and provides data that I later interpret and evaluate.
Additionally, separate emails need to be reviewed. part of the store and "manually" switch structure, HTML code, Raw vs. Rendered email. store versions and a full list of potential issues.
That's not the end of the audit, because after a big, comprehensive audit, it's worth doing "mini-audits" to review the most critical parts. This is necessary in order to anticipate potential problems – before this has had a negative effect on the results.
For each email For the store, the SEO process is unique, but it is worth noting one fact: even knowing the essential aspects of what is important to Google 's algorithms, something unexpected happens when working with this advertising channel. The only way to find email The right SEO model for your store is to run experiments. These experiments consist of hypotheses based on experience and observation of results.
In conclusion, keep in mind that the SEO process is monthly, unstoppable (because stopping SEO optimization usually results in results).