At the very beginning of 2021, we decided to analyze the 99 most visited e-mails. stores in Lithuania. Kokias el. trading platforms do they use? Do they monitor and evaluate the visitor experience? Is A / B testing relevant? And what about other website optimization tools, what and how many are used?
First of all, we wanted to answer these questions for ourselves, but the results of the analysis are too interesting not to be shared.
The course of this study:
We've singled out the 99 most popular emails. stores in Lithuania based on SimilarWeb data;
Using the builtwith.com and whatcms.org tools, we determined what platforms and optimization tools they were using;
According to the information provided by rekvizitai.vz.lt , we provided each e-mail. store turnover – we linked this data to the e-mail. choice of trading platforms and plugins;
We collected information about physical outlets and also linked them to emails in the findings. the use of trade technologies.
After analyzing the data, the following conclusions can be drawn:
Net 77% of all emails stores use one of three emails. trading platform solutions: Custom, Magento or Prestashop;
Interestingly, even 48% el. stores potentially do not use any optimization tools to improve the consumer experience;
16% of companies use two / three optimization tools for their email. in the store;
Hotjar and Google Optimize tools dominate among the tools used to monitor and improve the user experience;
It is likely that foreign origin e-mail stores in Lithuania are still more passive in using optimization tools your email in stores in Lithuania than local players;
Platforms using the OXID EShop platform do not use email. store optimization options;
In terms of the distribution of optimization tools, there is not much difference between firms that have physical points and those that do not ;
Optimization tools are more likely to be used by companies with higher turnover ;
And now about everything in more detail.
77% of all platforms are Custom, Magento or Prestashop
Our analysis has shown that more than three-quarters of the most popular emails stores in Lithuania use Custom, Magento and Prestashop platforms.
An article was recently published in Verslo žinios, which provides data that is somewhat different from what we are talking about in our conclusions. The text states that the most popular e-mail. The trading platform in Lithuania is WooCommerce.
In this analysis we conducted, 99 TOP e-mails were examined. stores in Lithuania, therefore the conclusions concern only e-mails. trade leaders, not the entire Lithuanian e-commerce. trade.
We see that the emails of the most popular countries stores use large platforms, and the fact that Leading Custom (platforms that are tailored to individual business needs) means that the freedom and flexibility to make a wide variety of changes is especially important for leaders. So neither Woocommerce nor Shopify are yet the platforms that would be popular among the big e-commerce businesses.
48% el. stores potentially do not use any optimization tools to improve the user experience
Once you have created and launched e-mail shop the whole process really doesn't really end there. It is no secret that CRO and A / B testing is required to move to the next level (e-shop development).
Our research has shown that only 50 percent of the e-commerce businesses surveyed are likely to do so, so the conclusion is that: Lithuanian e-commerce there is still a lot of untapped potential in the trade market. On the other hand, the remaining 50 percent has an advantage over competitors in its category.
It will be very interesting to see how this whole process develops. Due to the rapidly growing advertising costs of e-mail. the improvement of the store is becoming more and more meaningful due to the overall higher payback.
16% of companies use two / three optimization tools for their email. in the store
When collecting data on the largest e-commerce businesses in Lithuania, we checked whether e-mail The store uses the following popular optimization and visitor tracking tools:
Hotjar; Google optimize; Inspectlet; Lucky Orange; Crazyegg; Optimize; Mouseflow; Decibel Insight; AB Tasty; VIsual Website Optimizer (VWO).
The results show that slightly more than one in six businesses use two or more optimization plugins. By using hotspot analysis, videos, A / B tests, such businesses are likely to try to understand in every way why visitors are not buying their email. in the store. And knowing the major problems customers face isn't hard to fix.
So the bottom line is that due to the special attention paid to improving the user experience (UX), 16 percent of the most popular e-mails. stores are superior to others.
Hotjar and Google Optimize tools dominate among those potentially used to improve the user experience
According to Buildwith , 4 percent of the world's top 1 million websites use Google Optimize for A / B testing. With a second-place Mixpanel tool, Google Optimize breaks down by more than 2 percent, making it the world's leading online consumer behavior testing tool.
Another tool, HotJar, looks solid in a global context. Buildwith data shows that out of a million emails. sites worldwide, HotJar uses 67,620 and makes up 6.76 percent.
These facts prove that e-commerce businesses operating in Lithuania comply with world-class practices using the most popular tools.
It's worth noting that Google Optimize and HotJar are not only useful, but also acceptable optimization tools for virtually any business. The Google Optimize plugin is free, and the HotJar minimum package starts at $ 39. By combining these two tools, one can delve deep into the user experience and make testing decisions.
So we recommend that businesses implement these tools to further analyze the user experience via email. in the store.
Foreign-origin e-mails operating in Lithuania stores are more likely to passively optimize their sites than local players
In the general context of e-commerce, foreign companies are entering the Lithuanian market more and more every year, therefore we see great importance in analyzing them. Of the 99 most visited emails we analyzed, stores in Lithuania, 8 were registered abroad.
In part, the results of the study were somewhat surprising. Most of the foreign companies operating in our country do not seem to perform A / B testing and monitoring consumer behavior with the Lithuanian market. However, it is likely (although we do not have data) that they perform these analyzes in larger markets.
Therefore, in this respect, Lithuanian e. the stores have some slight advantage over the major foreign players. By using additional optimization tools, such businesses can better adapt to the needs of Lithuanians and their behavior (if such exists in the increasingly globalized e-commerce).
OXID EShop patformos el. stores are not optimized
Of the 99 emails we analyzed. stores, 5 of which are created using the OXID platform. The main conclusion that was clearly seen is that none of the e-mails on this platform. the store doesn't seem to use optimization tools.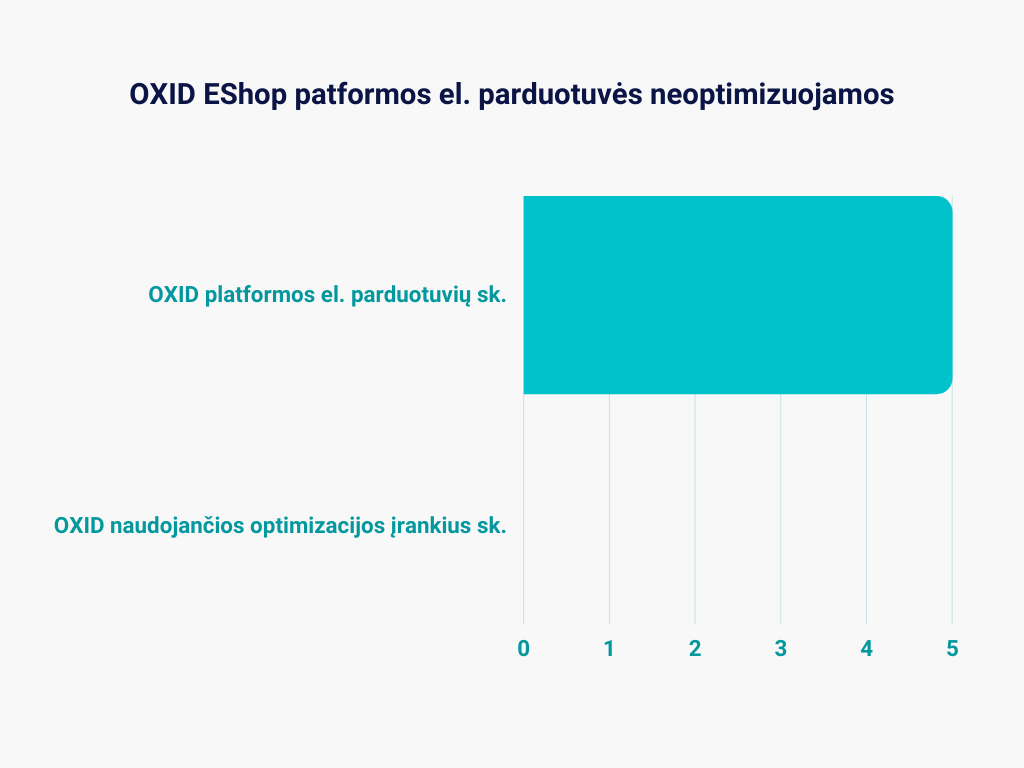 As far as we know, the OXID platform is no longer under development. Thus, those businesses that own it may face some difficulties due to limited email. store development opportunities.
Therefore, when choosing an email. trading platform, we recommend taking into account the extent to which it is used, developed and maintained by the suppliers themselves. More useful insights on email trading platforms can be found here .
Physical points do not affect the distribution of optimization tools
Another interesting cut we made in this analysis is the influence of physical outlets on the optimization of e-shops. We hypothesized that businesses that only work with email. in commerce, it tends to go deeper into its consumer, conducting various tests and thus improving the online shopping experience.
The results showed that the presence / absence of physical points did not differ significantly. 53 percent of businesses that have the ability to trade by contact use optimization tools. They are also used by 47 percent of non-physical e-commerce developers. businesses. Thus, it can be argued that this practice depends largely on the company's email. marketing strategies rather than the number of marketing channels.
Companies that generate more turnover are more likely to use optimization tools
Here is another interesting trend that we saw when analyzing the turnover data of the TOP 99 e-commerce businesses in Lithuania provided by rekvizitai.lt : practically all companies with an annual turnover exceeding 100,000,000 use website optimization tools.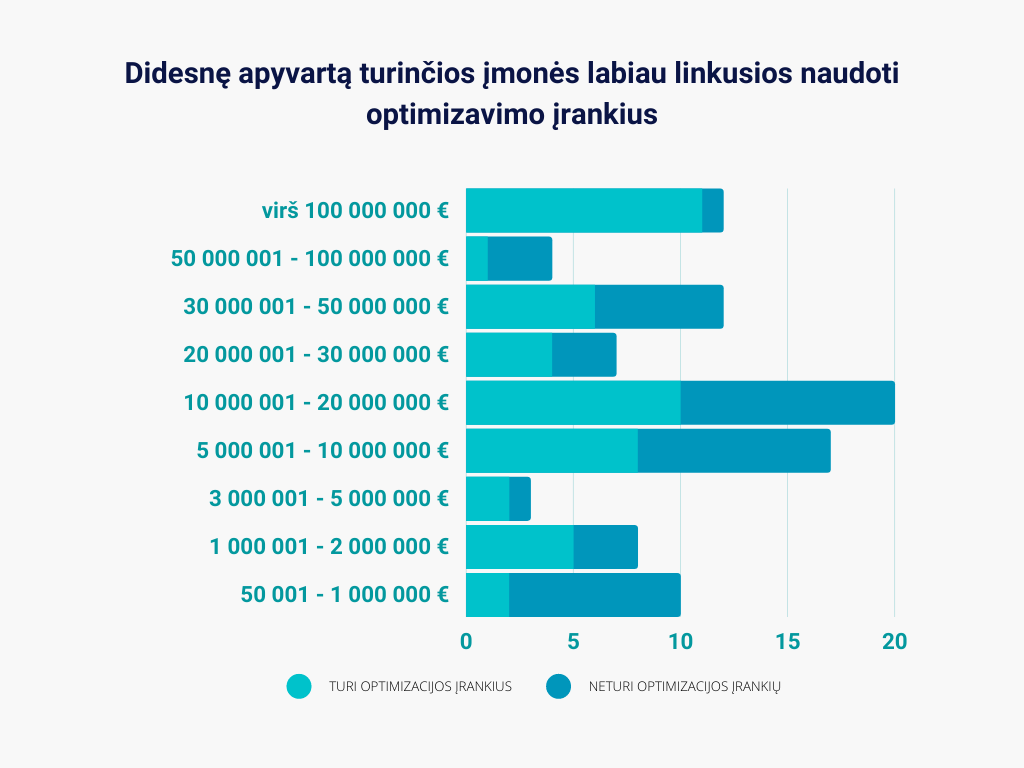 Of the 99 emails analyzed. stores, such turnover was generated by 12 e-commerce businesses and our results showed that 10 of them have optimization tools in place.
True, Pigu.lt blocks data about used plugins, but as far as we know, this Lithuanian e-mail. the trading giant is also one of them. Thus, it can be assumed that 11 of the 12 best-selling businesses tend to delve into their user experience.
The fact that large companies use optimization tools is quite natural. This practice is popular for its tangible benefits. Investing in website optimization tools brings tangible benefits, and big businesses understand that.
In addition, it can be seen that only 25% of the companies at the bottom of the table in terms of annual turnover use these plug-ins. It is difficult to say in what direction this correlation is. Is their turnover because they don't use optimization tools? Or maybe they don't have enough resources? Further analysis would be needed to answer these questions.
However, we would also see untapped potential for smaller companies here. Redirecting some resources to email improvement of the store, really good results can be achieved. Moreover, as I mentioned, the Google Optimize tool is free, and HotJar is really affordable for businesses of any size.
And finally.
These 8 conclusions reflect the trends of Lithuanian e-commerce leaders in 2021. In order to achieve better sales, it is very important to know your customer, understand his expectations, identify the problems he is facing, so we recommend taking inspiration from this article and analyzing the 99 TOP most visited emails. experience of stores in Lithuania.
For those who would like to examine the data in detail, here is a link to the data document .
And now the question for you is whether you use and execute your email. store optimization, what tools do you use for that?