You plan to have an email. shop? Great, there are a lot of emails on the market. trading platforms to suit different business needs.
So naturally the question arises: where is the problem then?
Due to the high e-mail with the abundance of trading platforms, knowing exactly which one best suits your needs can be challenging.
Choosing the wrong platform risks complicated replatformation (in Lithuanian, switching to another platform), and you are likely to lose a lot of time and money.
In this article, I will review four emails. trading platforms, which I usually meet in Lithuania, and I will mention their advantages and disadvantages. I will also tell you about one email. trading platform, which is not used by anyone in Lithuania, but it is especially popular among major foreign brands.
I hope this information helps you choose the best one.
Pay attention to the needs
First of all, before choosing which e-mail. store platform, I recommend going back to the long-term goals of your business. It is at this stage that you will notice several aspects that are worth noting. Evaluating them increases the chances that you will choose the right platform and will not need to change it.
SaaS (software as a service), also known as cloud computing, is a rental service for e-mail. the store you rent with all the necessary infrastructure. You usually pay a flat fee for this. SaaS type email Examples of trading platforms are Shopify, Salesforce.
In the case of non-SaaS, the entire email. you manage the store system yourself, so you need to take care of security, servers, updates, etc. However, as I mentioned, the whole system belongs to you, so you can handle it according to your needs. Non-Saas type email Examples of trading platforms are WooCommerce, PrestaShop.
Are the current systems you are using compatible with the email you plan to use? trading platform?
If a company has been in business for some time, perhaps even having physical outlets, it is likely that various systems, such as POS, warehouse balance management, or customer data processing system equipment, are used to ensure successful operation. Some of them are easily integrated into e-mail. trading platforms, however, there may be difficulties with others.
To choose the email that works best for you. trading platform, I would advise corresponding with the internal systems currently in use and analyzing possible changes and integration difficulties.
Design and user experience
El. in the store Your buyer should be able to easily find the goods, and buying them should also not cause any problems. So when choosing a platform, I would suggest thinking not only about the beautiful design, but also the user-friendly journey. In other words, UX (user experience) should be a top priority
Remember if the visitor has an email the store will be awkward, he will simply not buy anything. However, if you are unsure whether an email is selected the store template will be handy, I would advise you to consult an expert.
From my personal experience, I can say that when evaluating e-mail. stores UX I rely on more than fifty points of analysis and review each page of the template (title page, category and product pages, navigation, filtering, purchase process, etc.).
El. trading platform functionality
First, you need to know your needs. Maybe el. will the store only operate in one country? Or maybe you are planning to expand into foreign markets and you will need different domains? It is also worth considering how many product variations you have and what marketing tools you need (e.g., discount mechanisms, technical SEO management). Not to forget the payment and delivery methods and the wide range of available platform analytics features.
Make a note of all this to see if the email is selected. the trading platform has all the features your business needs.
For example, once we chose a platform, we rejected both Shopify and WooCommerce and stayed with PrestaShop – only they could offer an option as an email. the store can operate in many countries with easy management of its entire range.
El. trading platforms have different pricing. Some have a license fee (Magento), others have to pay a commission based on sales made (Salesforce). The rest have a fixed monthly fee (Shopify), which after a certain period of time becomes a sales commission (Shopify Plus) when the turnover limits are reached. There are many and varied options, but before deciding, it is necessary to assess which one is the most financially acceptable.
The development costs of the platform would not be considered either, as additional modules or plug-ins may need to be integrated, which also cost money.
Therefore, I recommend writing down the prices in advance: calculate a preliminary amount for fixed emails. store development work and anticipate future costs of maintaining the platform.
WooCommerce platform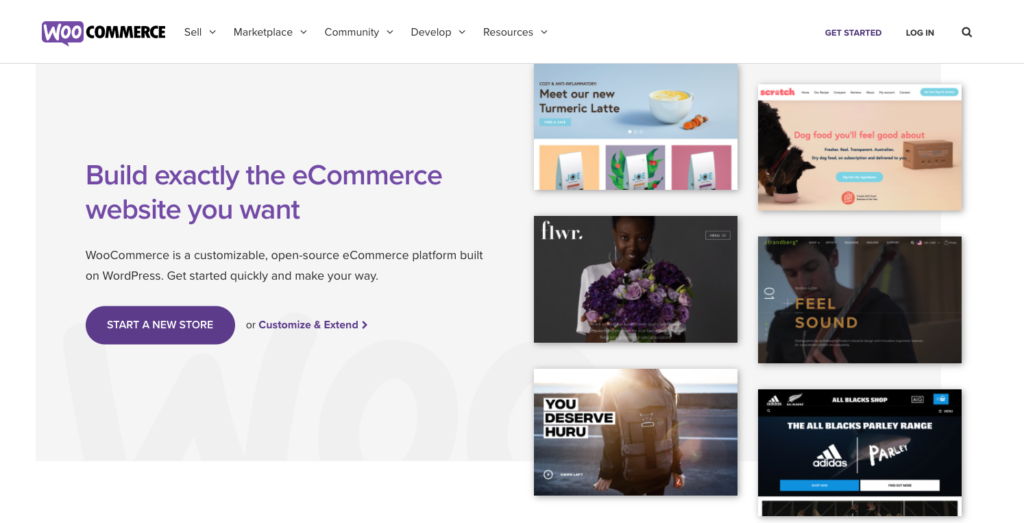 I have no doubt you have heard the name WordPress. In this section I will review WooCommerce – the most popular email. trading platform in the world. This platform is a free WordPress plugin that allows you to turn a website into an email. in the store.
Benefits of WooCommerce
a) Free (partially)
There may be an additional cost for the services of programmers to match an attractive looking email. store template.
Also, as usual, you will need to pay extra to install paid plugins.
Despite the aspects listed, this platform is still one of the cheapest. And if you have enough knowledge and your expectations for e-mail. the store isn't particularly large – this platform may not even cost anything.
b) Easy to install and use
It probably matters to you how long an entire email can take. creating a store?
After installing the WordPress system and next to the WooCommerce plugin, you will quickly get a working and functioning email. shop.
Pati el. The store management system is the equivalent of the familiar WordPress – the latter is used by millions of users around the world and is intuitive. However, if you run out of knowledge, you can always search for information online: there are many lessons in the cyberspace, both paid and free, that tell you how to work with WordPress in a consistent way.
(c) 100% modifiable
WooCommerce is an open-source system, so you can modify and implement virtually all of your ideas in consultation with programmers.
d) Friendly SEO platform
As it is a WordPress-based platform, it provides all the possibilities for optimizing e-mail. store for google search engine.
e) Having a wide community
Since this is the most popular email. trading platform in the world, it has an active community of programmers and other users, which shares information about various problems, usage features, operating principles.
Here are the groups on Facebook:
Also, due to the popularity of this platform, you should have no problem finding programmers to help develop this platform.
So if your programmer goes on holiday to Bali, I think you will easily find a new one.
f) Integrated blog
Since the WooCommerce system is owned by WordPress, you will automatically get a great content creation platform.
Disadvantages of WooCommerce
a) To get the most out of WooCommerce, you may need the help of a programmer.
Especially when you plan to modify your email. shop according to your specific needs
b) Additional plugins cost and slow down email. shop
While there is an option to install additional features through plug-ins offered by third parties, some of them may be paid for, so don't be surprised that you may have to pay a monthly fee.
c) Updates can ruin your email. shop
Usually email. The store has a number of additional plugins and enhancements installed, so updating your WordPress or plugin versions requires you to monitor how your entire email is working. shop: does its work not interfere, do the plugins fit in with each other? Not all third-party plug-in developers are able to update their features quickly, so keep that in mind.
d) Complicated development
In later stages, such as business development, this platform may slow down due to additional products and built-in features.
e) No traditional customer service
Although there is a lot of information online, WooCommerce does not have a publicly available email address. an email address or phone number where you can get help and get answers.
What is WooCommerce suitable for?
I know the email trading business in Lithuania, which is created using WooCommerce e-mail. trading platform and operates in as many as 8 countries. So it's a really flexible platform that will suit many.
However, I would recommend WooCommece as a good choice for beginners and small emailers. trading business with a limited range.
To get started with WooCommerce, visit their website .
Lithuanian e-mail stores that use WooCoomerce at the time of writing: Huracan.lt, Serksnomedus.lt, Coffeeloft.lt.
Shopify and Shopify Plus platforms
Shopify – is also one of the most popular email. trading platforms in the world. It is used by many start-up and advanced businesses (such as Heinz or Allbirds).
Personally, Shopify impresses them with their focus on a positive user experience – making this platform really easy to use. Only when connected, it is really easy to intuitively understand the operating principles of this platform. But about everything from the beginning.
Benefits of Shopify
a) Very easy to start and easy to use
To get started with the Shopify platform, all you have to do is sign up and pay the fee (or try it for 14 days for free). trade.
If you have more ambitions, you can start using the Shopify Plus platform (this is the version of Shopify for more advanced businesses), but you need to contact Shopify directly and agree on the terms.
b) No technical expertise required
This email the trading platform is hosted on Shopify servers. At the same time, Shopify keeps it technically in order, so you don't have to worry about any technological challenges. The Shopify platform will ensure that your only concern is business development.
c) 24/7 customer service
If you have any questions, you can write directly to the customer service center – the specialists working there will help you at any time of the day. In addition, Shopify provides detailed documentation, initiates community forums, and has a help center, all of which are very helpful in resolving issues.
d) 4,200+ plugins that complement the basic functionality
Shopify has its own plugin store – Shopify App Store. So if something is missing, all you have to do is press a button to install additional features.
Disadvantages of Shopify
a) You are "locked" on the Shopify platform where the terms are dictated by them
Evaluate the fact if Shopify decides to change your email. pricing or terms of trade services – there will be no negotiations, you will have to agree with them.
b) Including additional fees, the platform becomes significantly more expensive
Although elementary e. maintaining a store with basic features isn't expensive (starting at $ 29 / month), but everything you want extra will cost you. When choosing an email shop design theme only ten options are provided as free, others – will have to pay. The most important plugins are also charged – this aspect is one of the main reasons why the monthly fee for email. the store platform may grow. In addition, you will have to pay for 5 different languages or detailed reports – this is provided by the Shopify Advanced plan, which of course also costs extra.
In the case of Shopify Plus, an additional fee is payable, which is converted into a turnover tax when a certain volume is reached.
c) Weaker content creation platform than WordPress
If content marketing is one of the most important aspects of your marketing, the Shopify platform may be a poor choice.
d) Constraints on expansion
If you are planning to e-mail store on separate domains, be aware that Shopify does not have the functionality to manage these emails. stores from a single panel. It is also not possible to have more than a hundred product variations. There are other restrictions, so before creating an email. I recommend delving into the store.
What is Shopify suitable for?
There are two fundamental issues. Can you pay an extra amount for the plugin? And aren't the limitations that this platform has for you essential?
If both answers are yes, this email trading platform is the right choice for you.
To get started with Shopify, visit their website .
Lithuanian e-mail Examples of stores that used Shopify at the time of writing: Lesiai.lt, Gentleday.lt.
PrestaShop platform
The PrestaShop platform was first encountered when neither Shopify nor WooCommerce platforms were suitable for one project, and the said Prestashop had all the necessary features.
Advantages of PrestaShop
a) Open source and free (partially) platform
This is an open source email. a trading platform that will run on your server and will not belong to anyone but you. It is important. Although it's free, its installation, customization, plug-ins, and enhancements (I'll talk about them later) will definitely add up to the cost of working with this email. trading platform. However, as practice shows, this is not something unique compared to other similar platforms.
b) Ability to modify the platform as needed
The ability to enable or disable features, use existing plugins, or create and enhance a variety of features to suit your needs makes this platform flexible enough for a variety of needs.
c) Prestashop supports the function of different domains
Prestashop supports multilingualism and a multistore-domains feature that allows you to manage products across different domains via e-mail in different domains. in stores. So if you are considering expanding into the market of other countries, it is definitely worth paying attention to this platform.
d) Many different plugins and features
Prestashop has a number of built-in features that will benefit your business. There are also thousands of different modules that can extend e-mail. the store's operational capabilities, making Prestashop a really strong platform for that.
e) Wide community
The platform is really popular around the world, so PrestaShop has an official community (https://www.prestashop.com/forums/) and individual groups for discussion by professionals.
Disadvantages of PrestaShop
a) No official customer service team
You will be able to help community members who use this platform, but official help contacts are not available.
b) If you are planning to build Amazon, Prestashop may not be right for you
Prestashop is best suited for small and medium businesses that do not sell millions of different goods. However, if you have a huge email in your plans. store, it is likely that it may slow down significantly in the future and for this reason will not suit you.
c) Dependence on expensive plugins
If you want to install additional features, you will have to pay for them – all this can be quite a large amount. In addition, plugins sometimes "conflict" with each other, which significantly slows down e-mail. operation of the store. It also happens that updates to popular plugins are delayed because they are developed by third parties, which has a negative effect on the performance of the platform.
What is PrestaShop suitable for?
This platform is best suited for small and medium businesses that need Magento email. the trading platform is too expensive or too complex.
To learn more about PrestaShop, visit their website .
Lithuanian e-mail stores that use PrestaShop at the time of writing: Camelia.lt, Lonas.lt, Technorama.lt, Pet24.lt, Melga.lt, Gameroom.lt.
Magento 2 platform

As I write this article and do some analysis to this day, I have noticed that Magento is one of the most popular emails. trading platforms among the larger Lithuanian e-commerce. trading businesses. Let's take a closer look at it.
Benefits of Magento 2
a) Flexible platform
With the help of programmers, you will be able to modify this platform, connect integrations of third-party systems and adapt it to your individual needs.
Magento 2 has two versions of Commerce (or Commerce Cloud) that are designed for corporations and Magento Open Source, which is more suitable for small and medium businesses.
The flexibility of the platform is one of the biggest advantages of this platform.
b) Very wide functionality
This is probably the email with the widest range of features. trading platform in the market.
Different currencies, complex product attributes, gift voucher functionality, multi-store capability and many other solutions are the strengths of this platform.
c) Development-friendly platform
If your email there will be tens or hundreds of thousands of products in the store, you can be sure – this platform will work successfully.
Not a problem and high sales. Even if you sell tens of thousands of goods per hour, this platform will run smoothly.
d) Sufficiently paid additional functions
Magento has its own online store (https://marketplace.magento.com/extensions.html) where you can find both free and paid features that you can install in your email. shop.
Disadvantages of Magento 2
a) High platform cost and expensive maintenance
Because this platform is designed for larger, more complex email. trading businesses, it may cost from € 50k.
b) Expensive programmers and their great need for quality programming
It is a complex system and there are relatively few programmers operating in it. So, of course, a lot of money will have to be spent on developing the platform and constantly making all sorts of changes.
c) El. setting up a store may take some time
Because it is a complex platform that requires experienced programmers, it can take longer to build than other platforms.
Who is it for?
Magento el. the trading platform is suitable for businesses that are expanding to many countries, accommodate a wide range, want to use complex features and have a strong financial backbone to maintain this platform.
To learn more about Magento 2, visit their website .
Lithuanian e-mail stores that use Magento at the time of writing: Knyguklubas.lt, Kristiana.lt, Irankiai.lt, Pegasas.lt, Tele2.lt.
Salesforce platform
It is the only platform that does not use Lithuanian e-mail. trading businesses. So if you're curious what platforms such famous brands as Adidas, L'Oréal, Lacoste, GAP, New Balance use, you can pinch your finger at Salesforce. That's almost $ 200 billion. value giant really has something to offer in email. trading businesses.
The benefits of Salesforce
(a) No technical expertise required
This platform is based on SaaS, so maintenance, servers, infrastructure, security are managed by Salesforce – all with high quality.
b) Extensive functionality
This platform can offer omni-channel features, artificial intelligence integration, personalization options for ranking and recommending them via email. in-store (Einstein engine) and A / B testing capabilities. When I last interacted with this company, they already had voice search engines in place.
c) Platform for development
Full complete package to go to foreign markets: multi-currency, multi-language and multi-store features.
Disadvantages of Salesforce
a) You are "locked" on the Salesforce platform and are subject to their terms
Evaluate the fact that if Salesforce decides to change prices or terms, you will have to agree to them.
b) Salesforce only works with emails with sufficient sales. trade businesses
Very simple, if you don't have sales that make millions of dollars a month, this platform isn't even worth considering.
c) One of the most expensive emails. trading platform market
Keep in mind that this platform pays a commission on sales. Depending on the agreement, this may be a lower or higher percentage, but for large amounts, the price can still be significant.
d) Limited Opportunities for Improvement If Salesforce has not yet created something you are missing, you may have to wait.
Who is it for?
This platform is especially popular among international brands that focus on the fashion and lifestyle sectors and have millions of turnovers. As far as I know, in Lithuania this e. no trading decision is used by any company and that says so.
To learn more about Salesforce, visit their website .
Instead of the end
I have to mention that email There are many more trading platforms than I mentioned in this article, such as Wix, Squarespace, BigCommerce, 3DCart, Opencart, but in this text I have reviewed the ones I have encountered most often while working in Lithuania.
In summary, I can say that larger businesses mostly use Magento.
Lithuanian businesses of medium complexity and volume more often choose the Prestashop platform.
And finally, Shopify and Woocommerce are used for smaller businesses.
However, I am a big fan of the proverb that there is no one-size-fits-all solution, so I prefer to choose such an email. the trading platform that works best for you.